Hellbaron

I know, I meaning quake 3 graphic era :D
C.Z.R

Berserker
. It possible to improve lighting/shading? I mean what you see on screenshot: 1-1-1 or 2-2 is the same texture with the same normal map and specular but it's looks different at various planes. In one plane local looks more visible, less at another.
Берсеркер

C.Z.R whats wrong?
Correct lighting on the pics.
Добавил возможность декалить браш-модели в RTCW:
http://www.filedropper.com/rtcwdecalsonbmodels
Машина несла меня через неведомые районы Галактики сквозь пространство математической реальности быстрее скорости света. (C) Фред Саберхаген.
Спасибо, и декали на патчах тоже починили
А можно отключить исчезновение декалей с течением времени?
В смысле можно задать большое число в cg_markTime, но хочется иметь возможность управлять этим, типа cg_markTime = -1, и декали не исчезают
Gregorio

Eugeny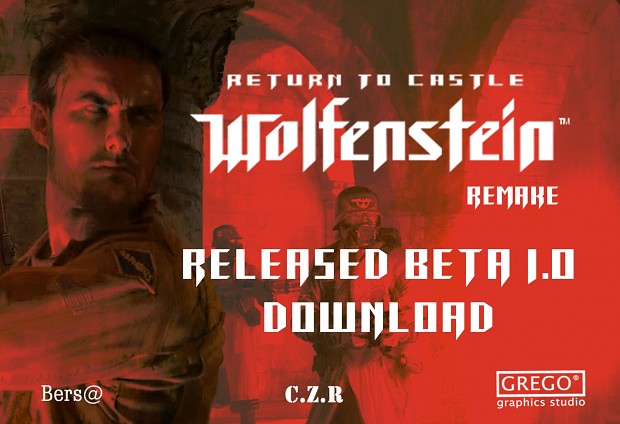 Поляки выпустили свой мод
Part1 2,54 GB
https://1fichier.com/?mc18aflh7l
Part2 2,00 GB
https://1fichier.com/?4exrrf0pca
Torrent:
https://1fichier.com/?ceulmy1kru
Бета такая бета
в паках много мусора, съехавишие текстуры, тупящие боты, прозрачные текстуры, пропавшие триггеры и т.д.
Gregorio

He has got error:
He has got graphics card
and second error
He sent to me information he has got "AMD Radeon"
Берсеркер

Gregorio
You have a notebook with two graphics cards: Intel and Radeon. I'm guessing?
"glGetStringi(GL_EXTENSIONS) returned NULL" error points to the fact that Intel is working.
Машина несла меня через неведомые районы Галактики сквозь пространство математической реальности быстрее скорости света. (C) Фред Саберхаген.
Hi, berserker! I'm remaking characters for RTCW and have some problem with limitation of
mds format. mds format only allows about 4000 polygons per a model and this is too small
for detailed modeling in 2015. Latest games generally use more than 10000 polygons for their
characters. I don't think it's easy work to do, but wish you can remove this limitaion.
I use
MDS exporter by TiCaL(
http://www.maxplugins.de/max2014.php?search=mds&all=on&sort=Author
)
3D MAX 5 (mds exporter does not support latest 3d max tool)
Thanks!